Artistic Murals by: Tamara Gerkin
Shawnelle and Mario's Kitchen Mural
Pembroke Pines, Florida
Tuscany Landscape
This is an ongoing process. Each time I stay with Shawnelle, I paint this Tuscany landscape mural that reflects the ambiance of Tuscany. What is great about this project is that I am teaching Shawnelle how to paint. One of the bunches of grapes she painted all by herself. She's also learning how to paint leaves and she painted the outer trim! Nice job Shawnelle!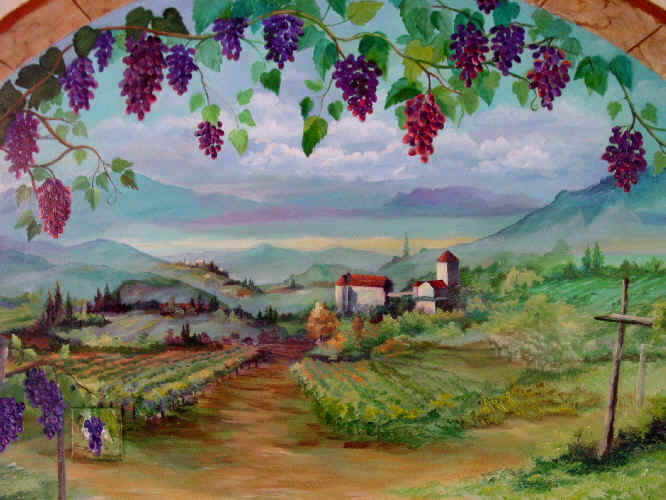 Size: 9' x 4.5' Location: Kitchen Wall
All paintings and images are Tamara Gerkin's original artwork. Copying or reproducing paintings, photographs, prints or poetry at www.ArtisticMurals.com website without written consent of the owner, is strictly prohibited. If you have any questions, please send an E-Mail or call at: 727-809-0606, Hudson, FL
Original artworks by: Tamara Gerkin, Copyright © 1999-2012 by Artistic Murals/ Tamara Gerkin. All rights reserved.