Artistic Murals By: Tamara Gerkin
Special Projects On Unique Surfaces!
Warning, this page contains images of paintings on a multitude of surfaces!
Nick and Captain Helen's Boat: Painted with Marine Paint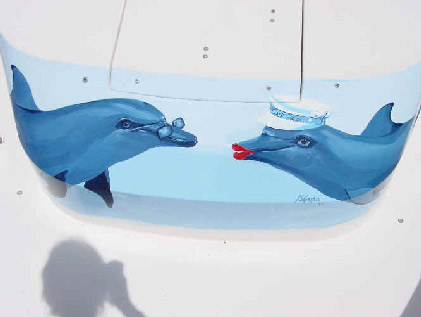 Helen, are your lips red enough?
---
Metal Tire Cover For Bill & Kathy Goddard:
(Kathy, KOA just isn't the same without your smiling face around!)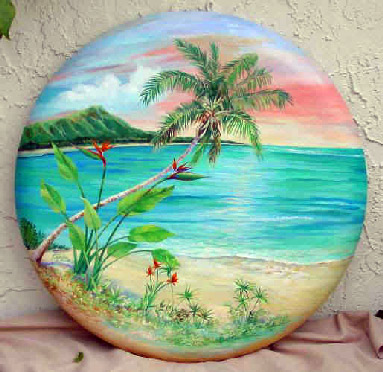 ---
Canvas Tire Cover for Gary & Diane:
Painted with Silver Metallic Paint.
Isn't Life Grand!"
---
Faux Marble Hallway Floor:
Hand painted concrete.
---
My brother Larry's hat: This is a very special hat that keeps all
the UV Ray's off your head, which is especially useful while fishing!
Unique Hat Painting for Captain Bill.
(For some reason I can't seem to get a copy of the dolphin side to save.
I may have to re-photograph the hat, so please hang on to it tightly Bill,
even though I know it's a 60 mpg wind hat.)
Capt. Bill's Hat

Grandson's

Brad's Hat
Dave's Hat
Jean Vitori & Tony Capone buy and refinish old houses...
this one was built in the 1920s and is beautiful!
The Breakfast Room:
Above the Kitchen window.
Panels in Living Room: Before & after shots.
| | | | | |
| --- | --- | --- | --- | --- |
| | | | | |
Before & After: Staying with the antique feel of the home...
Faux painted wood that is meant to match the original wood trim.
| | |
| --- | --- |
| Jean's "Harvey" in his garden. | |
---
Hugh & Janette Anderson, Hudson, FL:
Hugh you have my deepest sympathy for the loss of your wife. She was a truly wonderful woman.
Hugs,
Tamara
---
Motor Coach Mural For Merrill & Judy Bales:
(Judy and Merrill, thank you for your faith & friendship.)
A special note of gratitude to everyone that I've painted for these past months. Each experience has most enjoyable! Have a great summer and know that I am looking forward to seeing you again September.
Warmest wishes,
Tamara Gerkin
Artistic Murals
All paintings and images are Tamara Gerkin's original artwork. Copying or reproducing paintings, photographs, prints or poetry at www.ArtisticMurals.com website without written consent of the owner, is strictly prohibited. If you have any questions, please send an E-Mail or call at: 727-809-0606, Hudson, FL
Original artworks by: Tamara Gerkin, Copyright © 1999-2012 by Artistic Murals/ Tamara Gerkin. All rights reserved.